General Information for Visitors
Northwestern University
The main campus is located in Evanston, Illinois, about 20 minutes North of downtown Chicago on the shore of Lake Michigan.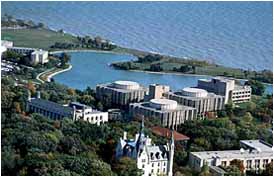 If you are not familiar with Northwestern you may want to read the main About Northwestern page.
Directions from O'Hare or Midway Airport
After you have retrieved your bags, call American Taxi at 1-847-255-9600 (operator) or 1-800-244-1177 (automated; you'll have to enter the phone number of your hotel as destination, and you must know the number of the terminal where you are located). The reason for using this company is that it is based on the North Shore. Most of the other cabs prowling around the airport are Chicago cabs and they do not know the Evanston area, so they will charge a much higher rate to go to Evanston AND they will probably get lost on the way! The cab ride from O'Hare to Evanston normally takes about 30 minutes (a lot longer during rush hours), from Midway about 45 minutes.


Important Places On Campus

Consult this map for directions to the buildings where the main events of the conference will be held: Dearborn Observatory, Allen Center, and Norris University Center. The Hilton Garden Inn is also marked for those guests who plan to stay there. Please note we will be meeting in the Norris University Center for our first day.

View Future of Astronomy: Fellows at the Frontiers of Science Locations in a larger map
Hilton Garden Inn Hotel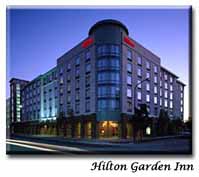 We have partnered with The Hilton Garden Inn of Evanston to provide anyone attending our conference with
special rates and accomodations

1818 Maple Avenue
Evanston, Illinois 60201
Phone: 1-847-475-6400
Fax: 1-847-475-6460
For more information, see CIERA's visitor information page.